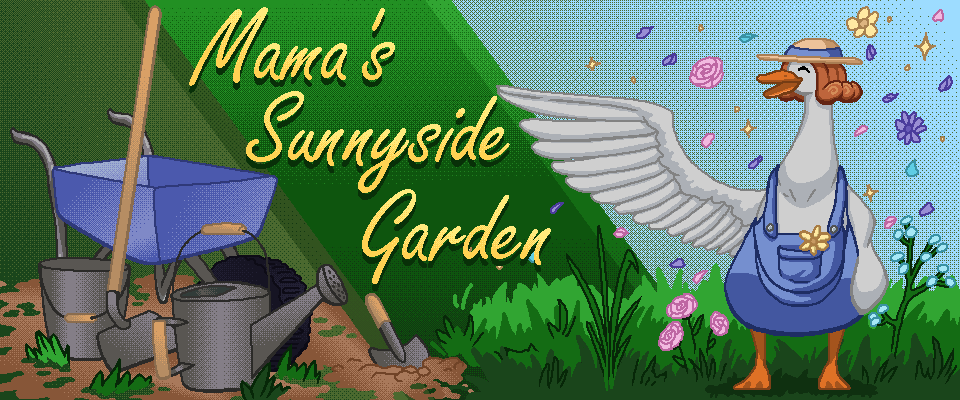 Mama's Sunnyside Garden
A downloadable game for Windows
Welcome to "Mama's Sunnyside Garden" - the game where you get to help Mama Gainz grow her garden! Mama Gainz has a green thumb, but she needs your help to plant and tend to her garden. She has all the tools you need, from watering cans to trowels, so roll up your sleeves and let's get to work!
Select from a variety of seeds like yummy chickpeas, zesty tomatillos or the coveted gooseberries! As you play, you'll get enough money to buy more seeds and even upgrade your tools! Upgraded tools work faster. Tools that can be upgraded include the garden hoe, trowel and watering can. Also, don't forget one of the most import tools, love! Add as much love as you want by clicking on your growing plants. Love is known for improving plant quality, water retention, and growth rate among others!
Controls:
RIGHT CLICK - Select
LEFT CLICK - Deselect
P or ESCAPE to pause
F for full screen
Try holding click to quickly deploy tools and seeds. Love requires single clicks.
BROWSER VERSION AVAILABLE ON GX GAMES

https://gx.games/games/4c9e83/mama-s-sunnyside-garden/

Developers:
Amber N. Williams - Artist
@Ambrowskii
Kenna M. Lindsay - Writer and Artist
@Kenna_Lindsay
Ricardo Aviles - Gameplay Designer and Programmer
@Ricky_games20
Rika Watanabe - Writer
@riki_0ntherocks itch.io/profile/riki-0ntherocks
Install instructions
Download the zip file.
Extract and play.